Weigh ins.

Fighters meeting.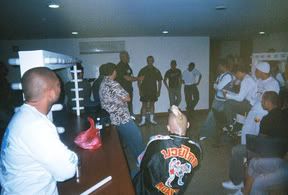 Getting my hands wrapped by Dorian.


Rockin the pink shorts(thanks Christine)!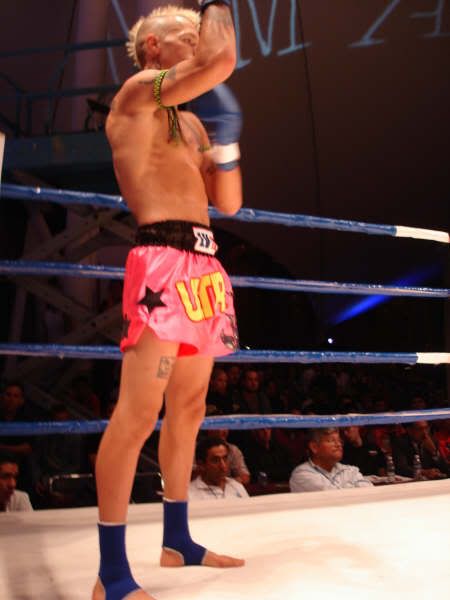 The win(toughest fight yet)!


Me and Juan(the guy I fought) in the Ambulance together.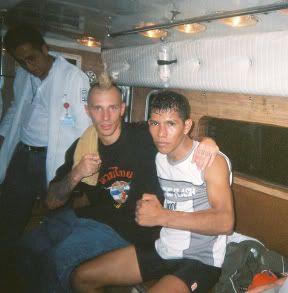 Waiting to get my stitches :)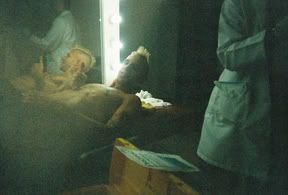 Getting my stitches :)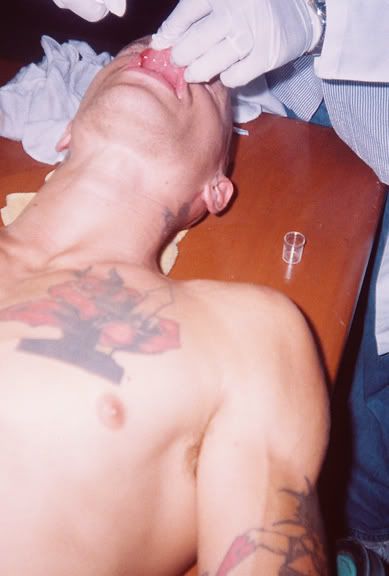 Alright everybody, here's how it all went down(from what I remember, was getting hit a lot so I may have to revize this once I see the video). First off I just want to thank everybody for all of there support and prayers and I want to thank all my freinds in Guadalajara that were there for me.
Took this fight on about 2 weeks notice against a guy who was 31-1, just coming off his first professional loss. I could only assume they were bringing me out to help get his confidence back up. Last Monday I was sparring and pretty seriously damaged my right leg, to a point where I could barley drive my car. So all week I had been icing it and rubbing it down with Thai oil, but there was no way I was gonna back outa this fight(even though most people probably would have). I wasn't worried too much about it cause I was just gonna use my left leg. But I wasn't sure if I'd be able to hold my right one back in the heat of the fight. So first round I start off really slow. I knew he had a lot of experience so I didn't want to do anything stupid. So we're exchanging back and forth, nothing major. Then I landed an elbow that split his forehead wide open. He kept his composure though. He had a really deceptive awkward style. He would throw these looping punches that were really hard to see coming. He landed a huge looping left which split the inside of my mouth wide open(to the point I thought it was going to filet all the way through). So after the first round I told my corner that I gotta finish this guy off. I knew that if I got hit there again it would bust all the way through and the fight would be over. We were both bleeding all over the ring(it was beautiful). I was worried about my right leg but once my mouth got busted open I said screw it. I came out the second round blazzing. Blasting him with leg kicks, elbows punches. He was a tough son of a bitch and he was really hard to hit. I'd get him in the corner and he'd always find a way to slip out. He was tagging with his punches and they would rock me pretty good since I didn't see them coming. In the third round he landed a spinning elbow to the side of my head that wobbled me pretty good(but I ain't going down for nobody). Going into the forth round I knew that I was getting to him. I could see it in his eyes. He was bleeding bad out of a few different cuts. He was hitting me a lot but I just kept coming forward and it was definitely taking his heart from him. My right leg was killing me. We didn't get a stool for the corner so I had to stand up between rounds. Going into the forth I just looked around the crowd. I was so happy to be there I didn't care what happened to me. I came out with a big smile on my face. I just gave it everything that round. They crowd started cheering, "MEXICO, MEXICO." This pissed me off, only the second time I've ever got mad in a fight. I worked him into the corner and just started blasting him with elbows. No punches, just left, right, left, right. Then I landed a hard cross which busted his nose to the side of his face followed by a hard leg kick. He went down face first waving his hands, "No mas, no mas!" and the ref waived it off. I couldn't believe it was over. I didn't really hit me till I went over to my corner. It was the toughest fight I've ever had and the guy I fought was a true warrior and a really nice guy. We both met up in the ambulance after. I'll post some pictures later today and hopefully I'll be able to get the video up here. We had a great time on this trip and I think I will be going out there at the end of July to fight again. I want to thank all my friends and family who support me and believe in me. I couldn't keep this up without you guys. I love you guys. On to the next one!